* the offer concerns half of a semi-detached house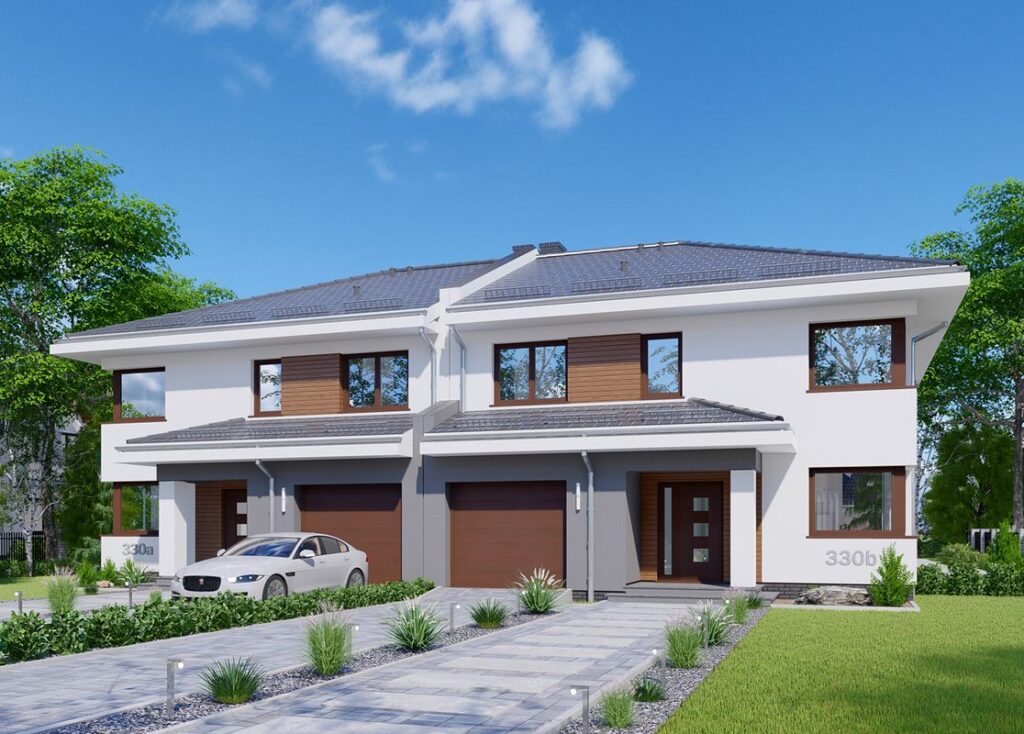 The Nowa Era Wytwóreń Wnętrz Paweł Korajczyk company offers for sale the left half of a two-family single-family building (APS 330 house project) in the developer's standard with a total area of ​​170 m2, usable area of ​​147.70 m2 (plus an attic 100 m2). It is located in the district Wrzosy-Leśna Clearing in Toruń. The building includes:
| | |
| --- | --- |
| | |
| | |
| | |
| Living room + dining room | |
| | |
| | |
| | |
| | |
| | |
Additionally, an attic with an area of ​​100 m2 has been arranged. The house is located adjacent to the forest. There is a clinic, nursery, kindergarten, shops and catering services nearby. The plot with an area of ​​approx. 450 m2 will ultimately be developed partially with plantings and fenced. Water, electricity and gas utilities connected to the building (own well). There will be paving stones on the plot in front of the garage (driveway) along the pavement leading to the front door. The landing in front of the main door will be finished with natural stone. A brick house made of the best quality materials, in accordance with the applicable energy efficiency standards, set on footings and foundation walls. Made of Porotherm, topped with a skeleton roof covered with dark graphite ceramic tiles. The house has very large, three-pane, 6-chamber graphite-colored windows on the outside and white inside, from a Polish renowned manufacturer. Electric graphite roller blinds with modern overload motors. External window sills are made of natural stone in graphite color. Balconies finished with glass and permanent acid-proof. External terraces finished. PVC sliding patio doors in HST and PSK technology. Energy-saving entrance door, wooden, covered with steel outside with side glazing (Venetian mirror type) in graphite color with black accessories – premium version. A panel garage door in the color of the windows (graphite) by the Wiśniowski company with a belt remote control. The building is equipped with the installation: electricity, water and sewage, TV, intercom, central heating gas (underfloor heating) Cement-lime plasters, concrete floor. The building is insulated with 20 cm polystyrene, the façade is white with dark color inserts. There is a lighting installation on the facade. The building is heated by a gas boiler.
Design and layout of rooms